Grela Alexandra
1974 born in Swietochlowice (Poland)
1994—1999 studies Painting at the Academy of Fine Arts in Cracow (Poland) — MA
2005 move to Hungary; member of the Association of Hungarian Creative Artists
2012— DLA degree from painting – Academy of Fine Arts in Cracow (Poland)
Besides painting I engage in the following media: illustration, graphic, drawing. Her works were exhibited in the following countries: Hungary, Poland, France, Italy, Germany, Russia, China, Japan, Egypt, Romania, Slovakia, Macedonia, Turkey, Argentina, Uruguay.
---
Selected publications with illustrations
2015 Csipkerózsika (Design-könyvek sorozat, Csimota Könyvkiadó)
2014 Lázár Ervin: A Hétfejű Tündér (Papírszínház, Csimota Könyvkiadó + Callicephales, France)
Selected exhibitions
"Silver Quadrangle" International Painting Triennial of Carpathian Region, Przemyśl (Poland) — GRAND PRIX (2006)
25. BIB — Biennial of Illustration Bratislava (Slovakia); XV. Hungarian Painting Biennial, Szeged (Hungary); XIII International Triennial of Small Graphic Forms, Lodz (Poland); I International Printmaking Biennial-Istanbul (Turkey); VII International Biennale of Engraving, 'Aqui Prize', Ovada (Italy); XVII, XIII Biennale Internationale de la Gravure et des Novelles Images de Sarcelles (France); Biennale Internationale de Gravicel, Lens (France); Third International Biennial of Mini Prints, Tetovo (Macedonia); Egyptian International Print Triennial, Cairo, (Egypt); IV. Novosibirsk International Biennial of Contemporary Graphic Art, Novosibirsk State Art Museum (Russia); Nord Art 2005 — Kunst in der Carlshütte; Büdelsdorf (Germany)
---
"I work in a very simply way. I start to figure out all the story. I imagine all characters scene by scene, chapter after chapter. Next I try to deal with it in the most synthetically and effectively as possible. I create some of visual shortcut, to implement what I've imagine than I outline it.
I don't like sketching too much before. To tell the truth it dispel me, that way I make only the most essential and needful ones, to check the base composition. For me sketches are rather a spur to the work, than really note.
I'm able to repaint the same illustration three or four time only because something I'm not sure. The work is finish when I am fully satisfied with the achieved result."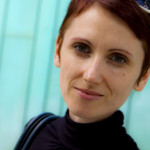 Buy now

The "Brown State" is a fictional political system that bans the keeping of non-brown cats and dogs. A Paper-Theatre tale from the age of 10.

Buy now

The tale of Sleeping Beauty told only in pictures, as part of our Design series.

Buy now

Ervin Lázár's classic tale is now available in the paper theatre series.
Back